Fayette County Public Schools, located in Fayette County, Georgia, serves the communities of Brooks, Fayetteville, Peachtree City, Tyrone and Woolsey comprising 24 schools. For a complete school directory, click here.
How many schools are there?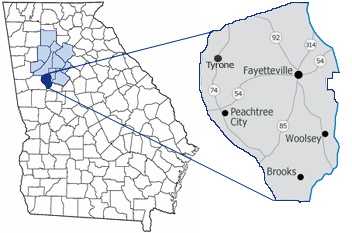 Elementary Schools (Grades K-5): 14
Middle Schools (Grades 6-8): 5
High Schools (Grades 9-12): 5
Alternative Education Program (Grades 9-12): 1
Open Campus Program (Evening High/Voluntary Alternative; Ages 16+): 1
For a complete School Directory, click here.



System Enrollment as of September 2, 2015: 20,082
Shaded blue area on map denotes greater Atlanta metro area